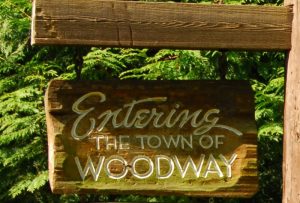 After a long and grueling process (which was way more difficult and tiring than I remembered), we are finally moved into our new place.  We're still in Edmonds, technically, but just this side of the border with Woodway.  In fact you can't get to our house without seeing this sign.
Everyone's doing well.  We all survived a brush with Covid back in July.  Work is good, everyone's reasonably healthy.  The new house has a lot more space, better storage, and his and hers offices downstairs.  There was one tradeoff: a much smaller yard.  But, this also means less yard work.
The war in Ukraine drags on depressingly, the midterm elections loom, our 401Ks have taken a beating, but life goes on.  Soon it'll be all turkeys and Santa Claus.